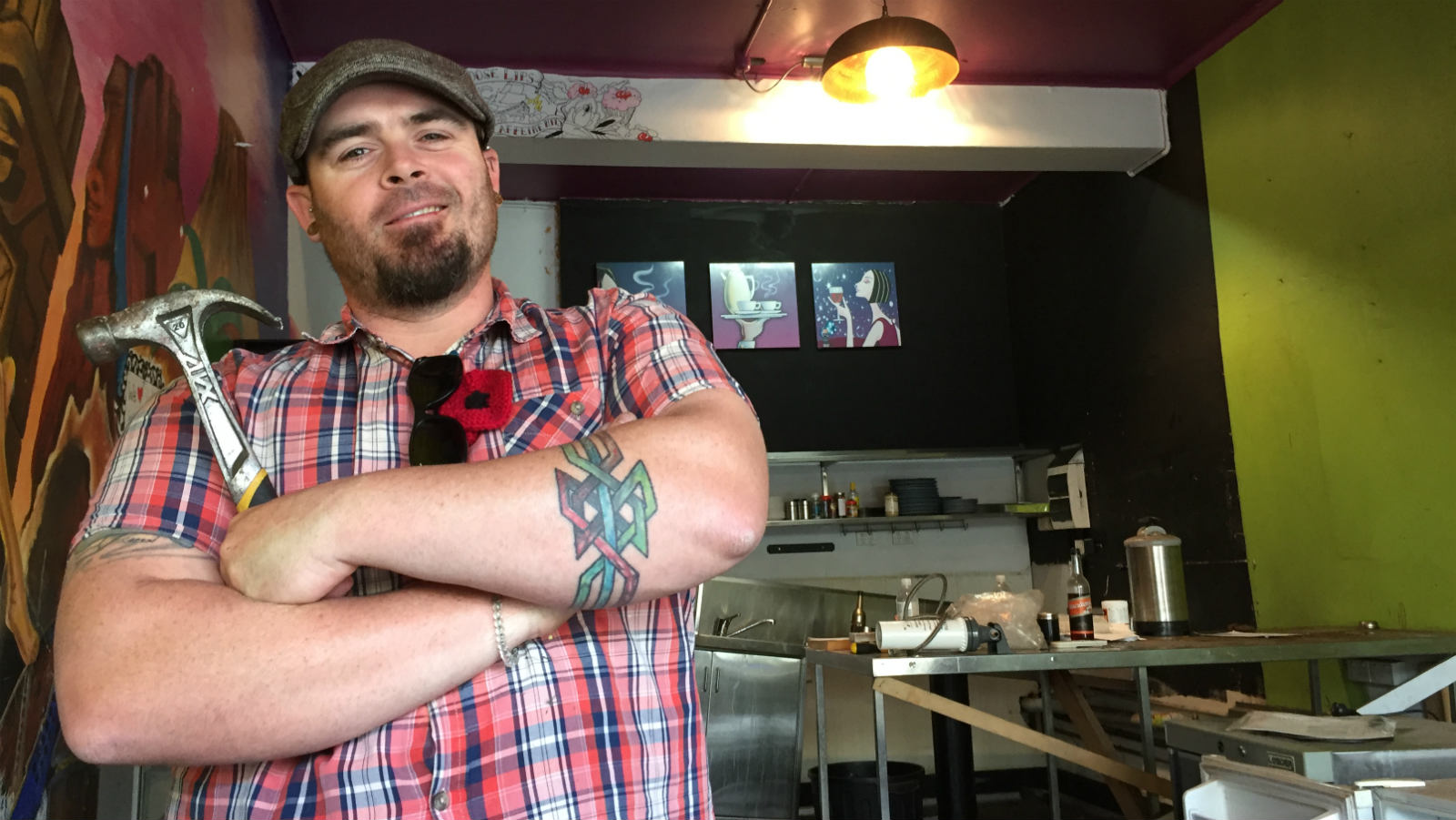 16 Dec

Bitter brew: portrait of a small business shut down

It's 4pm, Friday, November 2, 2018, and, like every Friday afternoon, Geraint "Gee" Holmes-Clarke is switching off the espresso machine in his cafe in the inner-Brisbane suburb of Albion. This, however, is the last time he'll do it.

With the click of that switch, GB's – a punk-edged 20-seat joint that has served about 200,000 cups across 1192 trading days – is out of business.

Trading conditions have changed, and this 20-year caffeine veteran has decided to call it quits both on this cafe … and the roasted bean game in general.

I'd known Gee for a while and asked him if he'd mind sharing how it all came to pass. He said yes, and what follows is the story of how a small business flips the sign for the final time.

M: So what happened? How did you decide to close? Why now?

G: Well, GB's went well for a while. There was a solid 3 years when we really were going okay, but from the start of this year, it just wasn't the same. January was a real slow and then 2018 just never sped up. I got an email from my property manager in September or October of this year letting me know the lease was coming up in January 2019. They wanted to know what my decision was: would I stay on for another 3 or 5 years or would I go? I went 'hmm, good question. I'll get back to you'. I looked at the situation and chatted with few mates around who own businesses. We realised that if we were all standing back looking at GB's in the shape it was in that we wouldn't buy it. And that was that.

M: You say the downturn started way back in January? A year is a while to stick it out.

G: Well, we have been breaking even all year, but if you are spending 11 hours a day to not make any money you may as well be making a loss. Combine that with the fact the cafe's lease is running out soon and I decided enough was enough. Plus, if I closed down now, I would have time to clear the premises out and also take a break to spend time with the family before doing new things in the new year.

M: It still must be something of a bitter day? Or are you relieved?

G: For me, I am making the best decision that I feel I can, everything considered. I am quite pragmatic. Yes, I am disappointed that things didn't work how I wanted. I am also thankful and relieved that I can close up and walk away without losing money.

M: You were in business at this location for about 4.5 years?

G: Just about. I started here on the 1st of July 2014. I took over from a cafe that was already here called Sweet Delicious. I moved in, refitted and put up a sign saying: Under New Ownership. The response on the first day was quite good. By end of the first month our turnover was up about 350% over what Sweet Delicious had been doing. I know what I'm doing in the cafe game!

M: This wasn't your first coffee business?

G: No way, I had been in the hospitality industry for 16 or 17 years before this, back in Canberra. When my wife and I were planning on moving up to Brisbane, I saw that the owner of Sweet Delicious had the business up for sale. I negotiated with him to buy the business for the cost of the equipment in return for taking over the lease. Back in the ACT, I had a coffee cart that could be transported and set up at large construction sites for the duration of the build, plus there was another cafe-bar I was involved with and on top of that I was working in other people's cafes and restaurants too. I was doing all of that at the same time – working 85 hour weeks. So we decided to move up here for the lifestyle and the attitude around work downtime. There is none of this cultural attitude of being available constantly that you have in Canberra. There are certain people who think that nothing happens in Canberra, but it is actually a 24-hour city because it is the seat of government.

M: Can you look back to see the causes of the business downturn for GB's?

G: First, the Ubet Tower is just across the road. They had something like 600 people in there at peak and they'd come to me for coffee, but management moved most of the staff to Woolloongabba on the other side of the CBD. Now, there is only about 150 people in the whole 10-story building. Entire levels are empty and soon the whole place will be gone. I saw a small increase while builders were at work on different apartment projects around Albion, but it was not a major pick up. Next, the Vita Group building a little bit further along was downsizing and closing its call centre. Then a few more cafes opened nearby. Overall, there is the general decline in Albion small business and the economy as well. A lot of my regular customers who used to drink a large were now getting a medium, and that adds up over 50,000 cups.

M: So it was a reduction in casual trade as well as a loyal customer base that was spending less?

G: Yes. When Ubet started moving the staff, my regulars came in to say goodbye. When they were back over here for meetings, they used to make a point of coming to me with 10 or 12 people. Funnily enough, I went to a larger coffee machine over the 2017-2018 Christmas break, but a lot of people who left on holidays in December got moved over to the Woolloongabba office and just didn't come back. The cafe culture is also different in Canberra: the 2:30pm cafe meeting is basically an institution. You take a group out of the office and have a casual meeting. That culture doesn't come through in Queensland. As well, younger people are not as much into cafes these days. They are more interested in energy drinks and protein shakes.

M: What are the things you have to do to wind down a business like this?

G: You have what is a make-good process as part of your lease and conditions will vary from lease to lease. Here, I owned all the equipment, including the light fittings, so, technically, I have to remove every one of my fittings. I even have to take all of the plumbing back to the wall. The paint on the walls also constitutes a tenant fitting, so I have to repaint the walls back to what was agreed. As for the other aspects, I am a sole trader so it is easy to wrap up. There are fees to pay, you have to take the EFTPOS machine back to the bank, wrap up your accounts. The coffee machine will go back to the supplier under the pre-existing use agreements, which a lot of cafes will do if they don't want to buy a $20,000 machine. I have been selling off bits and pieces, and my back deck at home now has a really fancy worktop bench and under-bench fridge – all in stainless steel and commercial grade.

"On any hospitality venture, as owner you have to be there every single minute that the place is open for the first two years."M: Looking back, are there things you would have done differently?

G: The only regret I do have is that I didn't approach the cafe with more capital. I bought the cafe and had $20,000 in cash, but my father passed away a month after I moved here. We used our capital to pay for the funeral first and then still opened the cafe. Things were looking good at the time and it was the right thing to do. Still, having that $20,000 to put into advertising and covering casual staff shifts could have made a big difference back at the start.

M: It sounds like owning a cool, funky cafe isn't as fun as it seems.

G: It's bloody hard work! On any hospitality venture, as owner you have to be there every single minute that the place is open for the first two years. If you are working by yourself without a partner, then you are there personally every minute you are open. You have to approach it with enough cash to pay all your rent for the first year without making a cent, then you have to have enough money for all your equipment plus at least enough cash to cover staffing costs for the first six months.

M: With GB's closed, what's next for you?

G: I have some trades experience and I will move back into industrial rope access work. I am also still fairly set on the idea of becoming a mature-age apprentice fitter and turner. In no way am I looking at leading the charge on a new hospitality venture. Saying that, I have been having some chats with another local venue, it could be a minor partnership of sorts with an established place, but it is too early to say.

M: Okay then, what's right now?

G: Well, right now I am going to have the longest break I have had in 13 years! I still feel weird about all this and that will take some time, I guess. And then, for Christmas Holidays, I am taking the family on a 2.5-week 4WD trip right along the edge of the Outback. I've been planning that for years!